Where to Buy Wedding Stamps
Buying custom postage? Our recommendation is Minted
Custom postage stamps are available for purchase in the US from exclusive vendors of the United States Postal Service™.  There are only three companies that offer custom postage stamps: Minted, Shutterfly, and PhotoStamps.com (Zazzle no longer offers custom postage).

While all three companies offer custom stamps, Minted is ideal for couples who want their postage stamps to correspond with their wedding theme.  Here are some reasons why Minted is the best choice:
Selection. Independent designers have created over 2,000 wedding-themed stamps from which to choose.  There are monogram stamps, save the date stamps, flower stamps, love stamps, and thousands of other designs. By comparison, only one other vendor offers a handful of designs that are not themed for weddings (i.e. sports teams) and the USPS only offers four wedding-themed stamps.
 
Signature Style.  Minted's collection of designs are truly the most beautiful stamps you can buy. You can start by using any of the unique designs built by independent artists as your base design, then choose colors and add text to coordinate them with your wedding invitations. Minted allows you to add text to almost any stamp in addition to photos.  This is ideal for creating monogram stamps, save the date stamps, or for adding any other text you'd like to your custom stamp to make it truly unique.
 
Satisfaction. Minted has an excellent reputation for working with couples to provide the perfect stationery for their weddings and beyond. After ordering you can return any item for any reason in exchange for credit or an exchange. You'll find they have many 4+/5 star reviews from people all across the wedding industry..
Minted is the best choice for ordering custom stamps with over 2,000 wedding-themed stamps: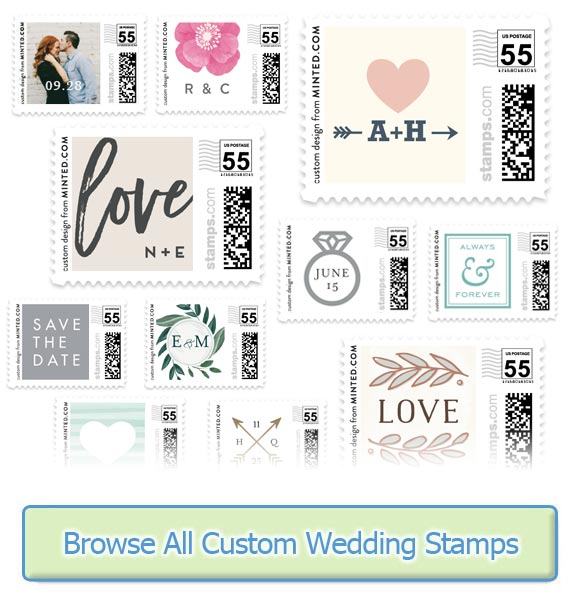 Buying standard USPS postage? Choose Amazon.com or USPS
If you aren't using custom postage for your wedding invitations, the USPS offers a handful of wedding-themed stamps as "forever" stamps as well as options for 2 oz letters which are common for many wedding invitations.
You can find them at your local post office or order them online from the USPS website however it is ironic that their delivery times for stamps are slow often taking 5-7 business days for delivery. Instead, Amazon.com carries wedding-themed stamps from the USPS with many designs available for 1-2 day delivery via Amazon prime.