Frequently Asked Questions about Custom Wedding Stamps
YES is the answer to the most common questions about wedding stamps.
But below you'll find other answers to some of the common questions about custom wedding postage. If you don't find the answer you need, please ask us!
How much do Zazzle custom stamps cost?
In addition to the face value of the postage itself, you'll pay a small additional price for each sheet of stamps (20 per sheet). The specific price varies according to size of the stamps, quantity of stamps, and who designed the stamps. Since these costs vary, it's best to choose a stamp, size, and quantity you want in order to see the final price.
Can I create my own stamp?
Absolutely! You can start with a blank stamp to create your own custom stamp. Keep in mind there will be a brief waiting period (typically 24-48 hours) while Zazzle approves your stamp design.
What sizes are available?
When designing your own, there are 3 sizes available (for both vertical and horizontal layouts):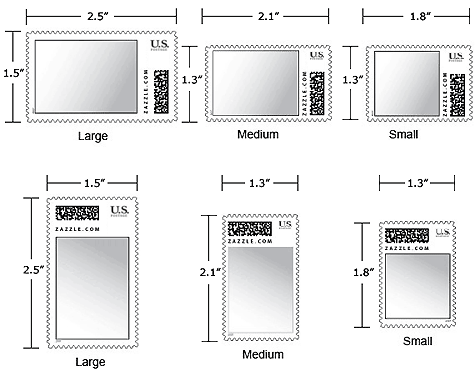 Some of the existing designs created by other artists are only available in certain sizes, while others are available in all 6 sizes.
What postage rate do I need for my invitations (postcards, magnets, etc.)?
The United States Postal Service uses the dimensions and weight of a mailing in order to determine the rate. You can use our postage calculator to estimate the cost, but always be sure to take your actual mailings to the post office to confirm what postage rate you'll need.
How quickly will they be shipped to me?
This depends on a couple of different factors:
If you purchase an existing stamp design, no approval process is required and your order will ship within 48 hours (plus the time it takes for the shipping method you choose).
If you create a custom design, the stamp must be approved by Zazzle before it can be printed and shipped. This process usually takes an additional 24-48 hours before the standard 48 hours processing plus shipping time.
Does my stamp have to be approved?
If you create a custom stamp from scratch (or modify an existing design) your stamp will be reviewed by Zazzle in order to make sure it does not violate any of the terms and conditions set forth by Zazzle and the United States Postal Service™. You can read the fine print, but in short, as long as you don't use any obscene or trademarked images, your stamp will be approved. The approval process takes approximately 24-48 hours.

Existing stamp designs that are not altered will not have to be approved.
When should I buy my custom stamps?
We recommend buying them two weeks ahead of when your mailing needs to be mailed. This will allow one week for approval and order processing and one week for shipping. That process can take less time if you buy an existing stamp design and choose a fast shipping method.
How many stamps should I buy?
Zazzle custom stamps come in sheets of 20. So, you'll want to buy the number of stamps you need and divide that by 20, then add one. We recommend an extra set of stamps in case of errors and for use in memorybooks/scrapbooks. Plus, you can use these stamps just like regular postage, so ordering a few extra is much better than not ordering enough.
Is there a minimum order?
Yes, you must order at least one sheet of stamps (20 stamps per sheet). Keep in mind that for 2 or more sheets, you'll start to save money on each sheet. Here's a table outlining how much you'll save depending on how many sheets you order:
Small Zazzle Custom Stamps
Quantity
Discount
2 - 10 sheets
$.50 off each sheet
11 - 21 sheets
$1.00 off each sheet
Medium Zazzle Custom Stamps
Quantity

Discount
2 - 10 sheets
$1.00 off each sheet
11 - 21 sheets
$2.00 off each sheet
Large Zazzle Custom Stamps
Quantity
Discount
2 - 10 sheets
$2.00 off each sheet
11 - 21 sheets
$3.00 off each sheet
(There are 20 stamps on each sheet.)
Won't the postmark cover the stamp?
The technology used by Zazzle and the USPS to authenticate means that most postal machines will not leave postmarks on the postage, leaving the recipient of your letter to enjoy your postage creation!
Did the postal rates change in 2018?
Yes, rates increased on January 21st 2018. For the latest pricing information see our current USPS rates section.