Custom Wedding Postage Stamps Have Been Discontinued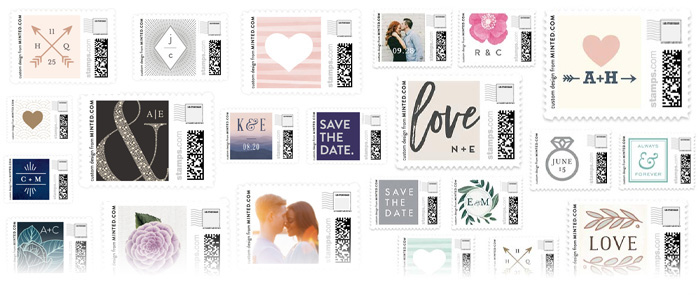 In June of 2020 the USPS ended their custom postage program after 16 years of offering personalized postage stamps. Companies such as Minted, Zazzle, and PhotoStamps.com are no longer allowed to print custom postage. It is no longer possible to buy or create custom postage stamps.
Alternatives to Personalized Postage
The USPS has a number of wedding-themed forever stamps as well as two-ounce wedding stamps. While these designs fall short of the personalization that custom postage offered couples, these love-themed stamps do let you add a romantic touch to your wedding mail.
These wedding-themed stamps can be purchased at your local post office and on Amazon.com:
Minted has also created a list of 8 ideas to personalize your envelopes giving you several ways to add your personality to the outside of your mail in addition to what's on the inside.
Custom Postage: The Past, Present, & Future
Beginning in 2004, the USPS authorized vendors (such as Minted, Zazzle, Shutterfly.com, etc.) to let people create custom stamps for any occasion using photos, text, or whatever they'd like to put on a stamp. For a small premium (above the face value of the postage), these companies let you choose from thousands of wedding-themed postage stamps or create your own. This let couples control the look and feel of the stamps for their wedding invitations.

Artists designed thousands of beautiful custom postage stamps ranging from monogram stamps to love stamps and every topic, color, and theme in-between. Couples could find the perfect way to dress up their invitations or even use custom save the date stamps when sending their wedding announcements. Millions of custom postage stamps were created, purchased, and used as valid postage over the years.
But in the spring of 2020, the USPS notified Stamps.com (who was the only remaining custom postage printer) that they were ending their custom postage program after 16 years. The U.S. Postal Service cited declining sales and legal frustration involving lawsuits about what was and wasn't permitted on postage stamps. This abrupt ending was met with disappointment—particularly in the wedding industry which was a popular arena for custom postage stamps for save the dates, wedding invitations, and more. The program officially ended on June 16th, 2020.
We were saddened to hear this news after promoting the sale of millions of customized wedding stamps over the past 11 years. We worked with Zazzle for many years until they discontinued their custom postage and later promoted custom wedding postage from Minted continuing to give couples a personal, creative, and stylish way to send their wedding mail. We hate to see it end, and hope that in the future the USPS will reverse their decision to terminate the program.
If you still have unused custom postage stamps, they will always be valid postage for the amount written on the front even though the custom postage program has ended.