USPS Wedding Stamps & Rates for 2023
The United States Postal Service (USPS) is the ultimate authority when it comes to who, what, when, where and how you can send your wedding invitations, save the date cards, and all other wedding-related mail. Over the years the USPS has offered a number of wedding-themed stamps for use on both one-ounce (which use forever stamps) and two-ounce letters. Custom stamps were available before June of 2020 but are no longer available for purchase.
We've outlined some of the most important things couples need to know about the USPS before buying wedding stamps online.
2023 USPS Postage Rates
According to the USPS, these are the current rates for 1st class mail (most invitations) in 2023:
Type/Weight
Rate
Postcards
$0.48
Letters
1st class, 1 oz
("forever stamps")
$0.63
1st class, 1 oz - odd size*
$1.03
1st class, 2 oz
$0.87
1st class, 2 oz - odd size*
$1.27
1st class, 3 oz
$1.11
1st class, 3 oz - odd size*
$1.51
1st class, 3.5 oz
$1.35
1st class large envelope, 1 oz
$1.26
1st class large envelope, 2 oz
$1.50
1st class large envelope, 3 oz
$1.74
1st class large envelope, 4 oz
$1.98
1st class large envelope, 5 oz
$2.22
1st class large envelope, 6 oz
$2.46
2023 USPS Wedding-Themed Stamps
The USPS currently offers a few 1st class 1oz wedding-themed forever stamps but most of the USPS postage stamps are less than idea for use to send wedding mail. The current face value of these stamps is $0.63. Here are some of the love/wedding themed postage choices:

If you are mailing a 2oz 1st class letter (common for larger/heavier wedding invitations) you'll need two-ounce wedding stamps (currently $0.87). The USPS currently offers one design: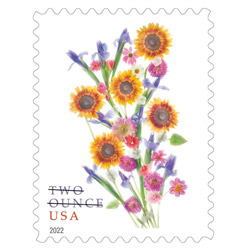 The USPS does not have any wedding-themed postcard stamps.
Custom Postage Stamps
Companies such as Minted and Zazzle previously sold 2,000 different wedding-themed stamps or you could even create your own custom postage stamps! Sadly, the USPS ended their custom postage program in June of 2020 and there are no companies left that offer custom postage stamps.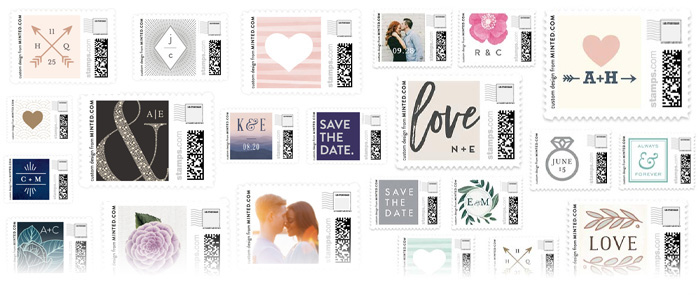 Odd-size/Non-machineable surcharge
The post office charges a nonmachinable surcharge of 40 cents per item for:
items that are too rigid
items that don't bend easily
items that have clasps, strings, or other non-standard closures
For more information, read about stamps and surcharges for non-machineable mail or use our postage calculator and we'll help you determine if your invitations are considered standard or non-machineable. Remember: Always take your mail piece to your local post office and have them weigh the item to be sure of the exact amount of postage needed.