Postage for Large Envelopes & Flats
Mailing large and bulky letters can be confusing. With so many different sizes, weights and materials, it's hard to know how much postage you need for each item. To make things simpler, the United States Postal Service (USPS) has set up official standards for mailing large envelopes which require different postage rates than traditional letters. Before buying wedding invitations or mailing a letter you should know if the USPS considers it to be a standard "letter" or an over-sized mailpiece they call a "flat" which require more postage.
What Size is a "Large" Envelope?
The USPS uses the term "flats" to refer to large envelopes, letters, and other mail such as magazines that are larger than common 1st-class envelopes such as a 6x9 card or #10 envelope. Letters sent via the U.S. mail service are considered flats (aka large envelopes) if the dimensions are:
Greater than 6-1/8 inches high OR 11-1/2 inches long OR ¼ inch thick
No more than 12 inches high, 15 inches long, AND ¾ inch thick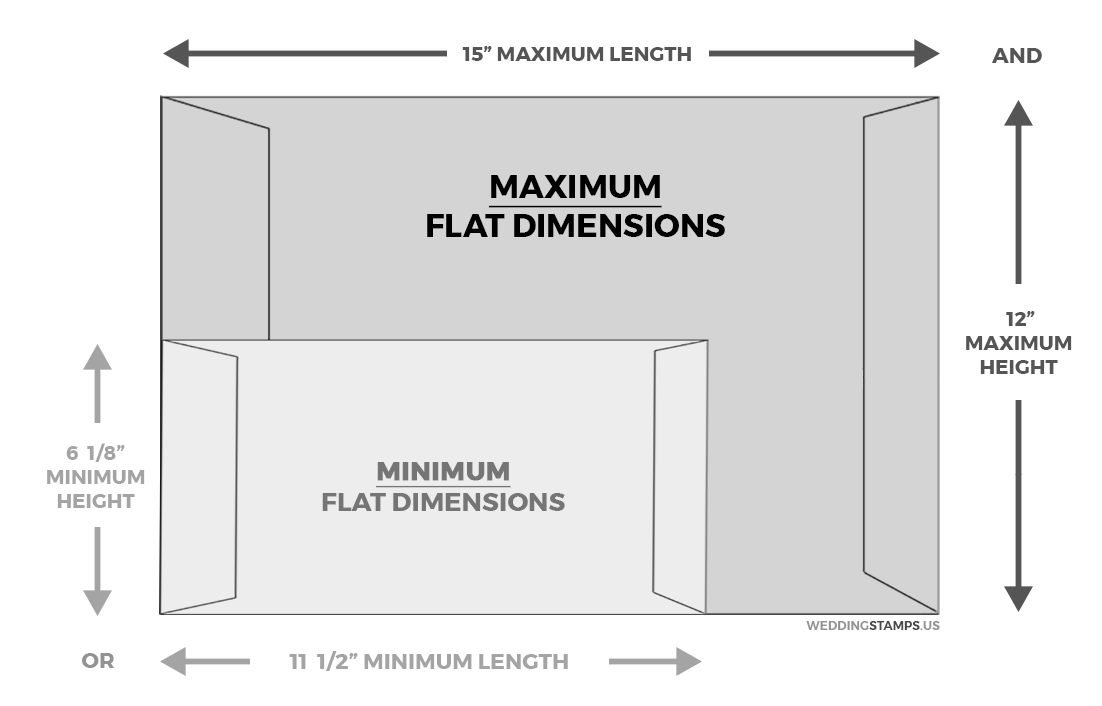 A piece of mail is only considered a flat if at least one of its dimensions are greater than either of the minimum requirements and all of the dimensions are less than the maximum requirements. So if your envelope is less than 6 1/8" high and 11.5" long, it is a 1st-class letter, not a flat. If your mailpiece is greater than than 12" high OR 15" long OR thicker than 3/4", it is a parcel, not a flat.
2023 Postage Rates for Large Envelopes
If you are mailing a large envelope ("flat") after July 9th, 2023 you will need to ensure you have enough postage for it to reach its destination. The table below shows the current price postage rates the USPS charges to deliver flats:
| Large Envelope ("Flat") Weight | 2023 Rate |
| --- | --- |
| 1st Class Large Envelope, 1 oz | $1.35 |
| 1st Class Large Envelope, 2 oz | $1.59 |
| 1st Class Large Envelope, 3 oz | $1.83 |
| 1st Class Large Envelope, 4 oz | $2.07 |
| 1st Class Large Envelope, 5 oz | $2.31 |
| 1st Class Large Envelope, 6 oz | $2.55 |
| 1st Class Large Envelope, 7 oz | $2.79 |
| 1st Class Large Envelope, 8 oz | $3.03 |
| 1st Class Large Envelope, 9 oz | $3.27 |
| 1st Class Large Envelope, 10 oz | $3.51 |
| 1st Class Large Envelope, 11 oz | $3.75 |
| 1st Class Large Envelope, 12 oz | $3.99 |
| 1st Class Large Envelope, 13 oz | $4.23 |
The USPS does not offer sheets of postage stamps at these rates. You'll either need to visit the USPS to print the specific postage, print them at home with a service such as Stamps.com, or use multiple postage stamps.
Common Envelope Sizes
The majority of letters (especially those sent for personal mail such as wedding invitations and birthday cards are 1st-class letters, not flats. Below is a list of common envelope sizes, each labeled as either a first-class letter or a flat:
Envelope Height x Length*
Letter or Flat?
Odd-sized?
4" x 9.5"
Letter
No
4.25" x 5.5"
Letter
No
4.25" x 6"
Letter
No
4.125" x 9.5"
(#10 Envelope)
Letter
No
5" x 7"
Letter
No
5.25" x 5.25"
Letter
Yes
5.5" x 7.5"
Letter
No
6" x 6"
Letter
Yes
6" x 9"
Letter
No
6.5" x 8.75"
Flat
No
9" x 12"
Flat
No
10" x 13"
Flat
No
* Length (sometimes called the "long" side or "width") is the side parallel to the address as it is read. Height (sometimes called the "high" side) is the side perpendicular to the length.
Oversized vs. Odd sized: What's the Difference?
The difference between regular letters and large envelopes (flats) boils down to the dimensions—flats are larger than standard letters and are treated differently.
However, even some standard envelopes don't work well with the USPS's automated systems due to their sizing and textures. Those mailpieces are called "non-machineable" mail. Examples include letters that are too thick, square, have clasps or fasteners on the outside of the envelope, and other odd sized envelopes (such as where the short side is the address side (not normal). When it comes to wedding invitations, couples can often be surprised to find that the USPS considers square envelopes non-machineable mail and charges more in postage to deliver them. These odd-sized letters aren't flats, but they increase the amount of postage needed.
Confused? Try Our Postage Calculator
Our free postage calculator will help you determine if your invitations are letters, flats, or non-machineable. But remember: it's always a good idea to take your mail piece to your local post office and have them weigh and measure the item to ensure that you have the exact amount of postage you need.